Baby Bee is the mascot for Mrs. B.'s Kindergarten class at Hidden Valley School in Santa Rosa, CA. Every week a "special" child gets to spend some quality time with the cute little plushie. We keep a journal of the fun times Baby Bee has with his classmates which we'd like to share with you on-line. Enjoy!
Although our time in kindergarten has come to an end, the site will stay up through September 2005. Some of the end-of-year party pix have been posted. Please check 'em out. I'm sure we'll see a lot of you back in the fall for First Grade. Have a great summer!!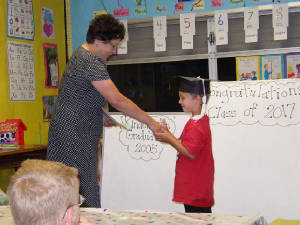 Graduation Day: June 9, 2005.